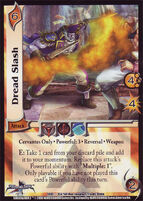 Name: Dread Slash
Set: SC03 (Soul Arena)
Card #: 24/144
Rarity: R
Type: Attack
Cost: 6
Control: 2
Block: None
Speed/Zone: 4/Mid
Damage: 4
Keywords: Cervantes Only, Powerful:3, Reversal, Weapon

Enhance E: Take 1 card from your discard pile and add it to your momentum. Replace this attack's Powerful ability with "Multiple:1". Only playable if you have not played this card's Powerful ability this turn.