Mitsurugi is a character from the Soul Calibur series. There are five different versions of Mitsurugi available.
Mitsurugi made his debut in the first Soul Calibur set (SC01), released in May 2006 - simply called
Soul Calibur III
. The
Super-Rare
Mitsurugi, commonly denoted as *Mitsurugi* or "Mitsurugi1", and the
rare
Mitsurugi, commonly denoted as **Mitsurugi** or as "Mitsurugi2", were released in this first set.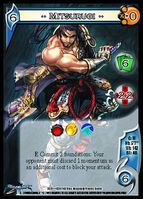 The third Mitsurugi was a promotional version, which had three dots on each side of the name and commonly typed as ***Mitsurugi*** or Mitsurugi3, was part of the third group of promotional character cards
Sabertooth Games
released as part of their free tournament support kit from September 2006 to June 2007, and as such was mainly obtained through sanctioned tournaments.

The next release of Mitsurugi came as part of the second block of UFS which put a three pointed shuriken watermark behind the text of all non-character cards released from February 2007 to February 2008. In this new set, released February 2007 named Soul Calibur: Soul Arena (SC03), Mitsurugi gained two new characters: a five-dotted Rare version and a four-dotted Super-Rare.
Card Info
Edit
Mitsurugi 1

Vitality 25

R Commit 1 Foundation: After 1 of your attacks deals damage, your opponent loses 1 vitality.

F Commit: Add 1 Fire card in your card pool to your momentum.

Collector's Number: SC01 037/143
Rarity: Super-Rare

Mitsurugi 2

Vitality 22

E Commit 2 Foundations: Your opponent must discard 1 momentum as an additional cost to block your attack.

Collectr's Number: SC01 038/143
Rarity: Rare