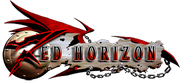 It is an original intellectual property created by Jasco Games and first set released by Jasco Games. There were 5 promos released at GenCon 2010, featuring a new character with alternate card template (which will not represent any new template for future character cards).
Red Horizon will have its own story of its own in the UFS Main Site in Jasco Games. This set is estimated to release between November and December 2010.
As of October 2010, only ·Nehtali·, Law of the Land and Unexpected Consequence are legal for tournament play.
Characters
Edit
Card List
Edit
Banned Cards
Edit
No current banned cards.
Cards with Errata
Edit
No current cards with errata.