This expansion is from the Set 13 which released in conjunction with ShadoWar (SW01) and is the first Soul Calibur IV expansion released by Fantasy Flight Games. Contains support for the following Resource Symbols: Air, All, Chaos, Death, Earth, Evil, Fire, Good, Life and Order. The Box Topper of the Booster Box was Tower of Souls . The Box Topper of the Starter Deck Box was Cassandra· .
There are 144 Cards in this set. Additionally, there are 3 promos under SCIV1P. It is followed by Quest of Souls (SCIV02) .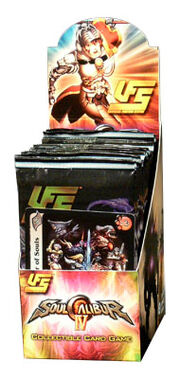 Characters
Edit
Card List
Edit
Banned Cards
Edit
Hilde as October 3, 2010.
Cards with Errata
Edit
Torn Hero

The R now reads: R Discard 1 momentum: Before your opponent commits a card in your staging area, they commit this card instead.