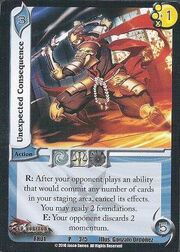 Name: Unexpected Consequence
Set: Red Horizon (RH01)
Card #: 3/5
Rarity: P
Difficulty: 3
Control: 5
Block: +1 Low
Type: Action
Keywords:

R: After your opponent plays an ability that would commit any number of cards in your staging area, cancel its effects. You may ready 2 foundations.
E: Your opponent discards 2 momentum.